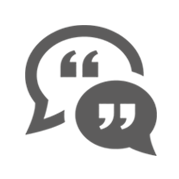 Feedback's are the critical ingredient of growth. We would love to hear from your honest comments, feedback and suggestion. Here are a few words of encouragement from our growing list of relationships.
P.A.Bhansali - Alfa Laval India Ltd.
Amol Paralkar - Mahindra & Mahindra Ltd.
P.K.Pillai - Alfa Laval India Ltd.
Mr. Manwani - Shalimar Machine Tools
Harshal Potnis-Nalco Water India Ltd.
Umesh Loya - Premium Transmission Ltd.